Independence Day Menu
---
Network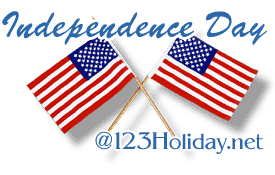 4th of July Crafts
Stars And Stripes Collage

Supplies: Blue construction paper, Red and white construction paper cut into 1" strips, Silver star stickers, Glue
Directions: Set out all of the materials and let the kids create.

---
Fireworks

Supplies: Net Scrubbie, Black Construction paper, Gold (or any color you want) tempera paint, Paper towel
Directions: Use black construction paper and make fireworks using net scrubbies that you use washing your pots and pans. Mix tempera paint in a tray and add paper towels to make more of a stamp pad. The paper towel should be wet not soaking. Too much paint and it won't work. Touch the scrubbie to the paper towel and press on paper. I have gold tempera which really looks spectacular. Use white and red as well and add glitter to the paint. It is a great effect on the black paper.

---
4th of July Wand

Supplies: newspaper, red, white and blue streamers, markers or paint, glue stick, star stickers
Directions: Take a large sheet of newspaper and fold in half. Start at one corner and roll into a long stick shape. Tape. Children can color newspaper with markers/paint, etc. Attach crepe paper streamers or strips of tissue paper at one end (or anywhere) with a glue stick. Decorate with foil star stickers. Can be used for a parade, dancing, etc.

---
Star Crowns

Supplies: Glue, red paint, Red, White, and Blue Construction paper, Scissors, and star stickers.
Directions: Pre cut stars out of red, white and blue construction paper. Give each child a long white band (about 1 1/2 to 2 inches wide) of construction paper long enough to fit around a child's head. Let each child glue (I colored my white glue with some red paint) as many paper stars on the band as they want. I also put out some red, white and blue stickers for the to put on. When dry, fit to each child's head and staple. The kids just love the star spangled crown.

---
Bells

Supplies: Paper Cups, jingle bell, string, and markers
Directions: Use paper cups and let children decorate them. (have them add a "Crack", like the Liberty Bell) use string through the bottom of the cup, and tie on a small 'jingle bell'

---
Rockets

Supplies: Construction paper, markers, string
Directions: Make a cone shape, out of construction paper. Decorate with markers. Cut a narrow (approx. 2" long) slits on opposite sides of the wide open end. Use 18" of string, and with the point up, put the string through the slits, and pull sharply on the ends of relaxed string (rocket will fly into air)

---
Star Cookie Cutters

Supplies: Star shaped cookie cutters (all sizes), red and blue paint, paper
Directions: Gather a few star-shaped cookie cutters and shallow bowls of red and blue tempera paint. Allow each child to have a turn pressing the cookie cutters into the paint, then onto a piece of construction paper to make star shaped prints.

---




Search the web: